Leadership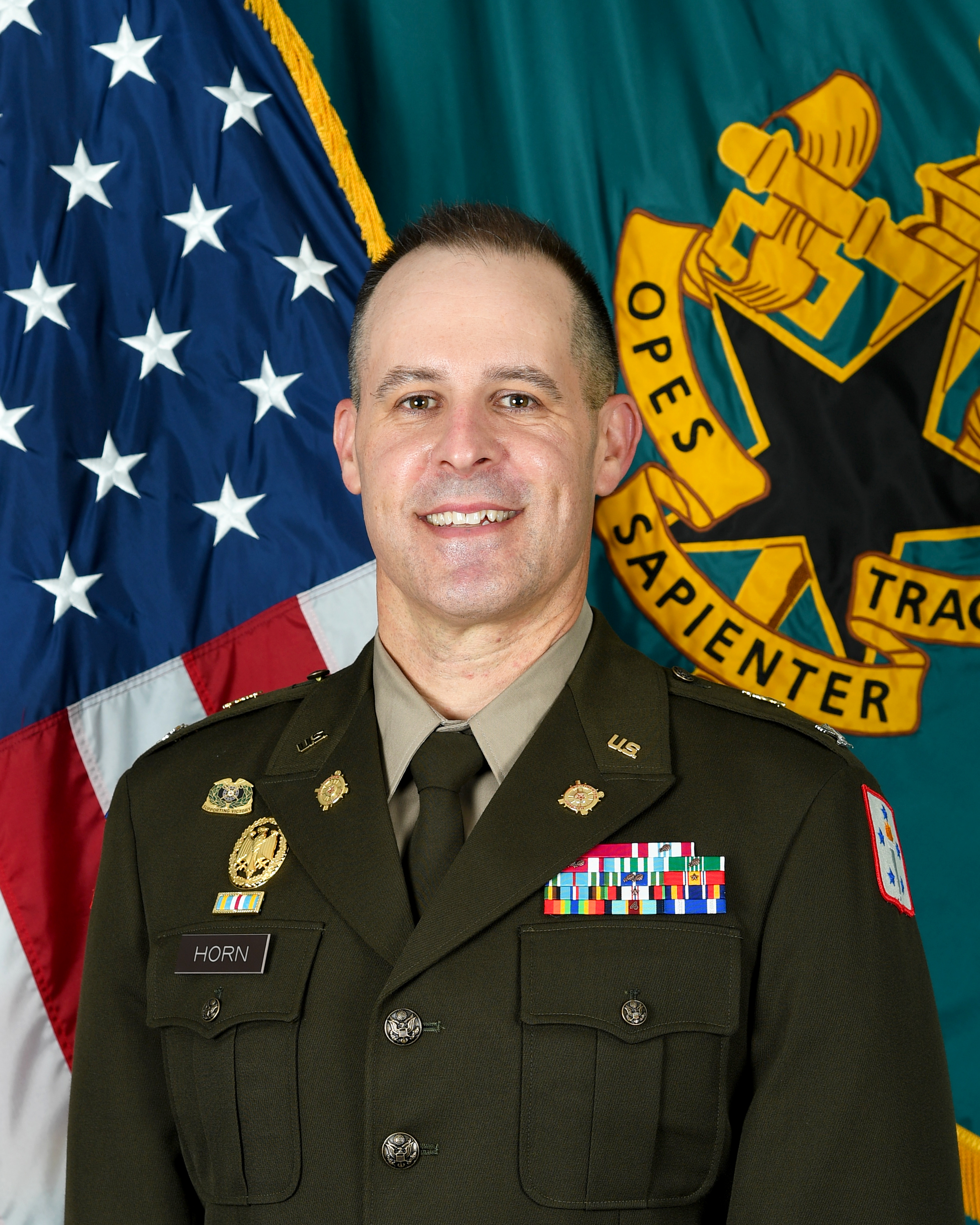 Colonel Daniel L. Horn
Commandant, Somervell Campus, Army Sustainment University
Colonel Daniel L. Horn is a native of Warrenton, Oregon and attended Pacific Lutheran University in Tacoma, Washington where he earned a Bachelor of Science in Business. He commissioned as a Second Lieutenant in the Armor Corps and branch detailed to Quartermaster.
Colonel Horn served as the 34th Commander of Tobyhanna Army Depot from June 2021 to July 2023, where he led a team of 4,000 personnel. His responsibilities included supporting global readiness for Command, Control, Communications, Computer, Cyber, Intelligence, Surveillance and Reconnaissance (C5ISR) systems across the Department of Defense.
Other assignments include Military Deputy of Defense Logistics Agency, U.S. Central Command (USCENTCOM) and U.S. Special Operations Command (USSOCOM) Forward; Battalion Commander, 244th Quartermaster Battalion, Fort Lee, Virginia (known as Fort Gregg-Adams since 2023); Chief of Current Operations, 593rd Expeditionary Sustainment Command, Joint Base Lewis McChord, Washington; Joint Logistics Officer at Headquarters, Defense Logistics Agency (DLA), Fort Belvoir, Virginia; Support Operations Officer for the 391st Combat Sustainment Support Battalion; Executive Officer of the 16th Sustainment Brigade, Bamberg, Germany; J4 Logistics Officer, in support of the International Security Assistance Force (ISAF) in Afghanistan; Logistics Fuel Planner, United States Army Europe G4, Heidelberg, Germany; Company Commander of the 284th Base Support Battalion, Giessen, Germany; 3rd Brigade Maintenance Officer in the Division Material Management Center, Fort Hood, Texas (known as Fort Cavazos since 2023); and Tank Platoon Leader in the 3rd Battalion, 8th Cavalry Regiment, Fort Hood, Texas.
He is a graduate of the Army War College and received a Master of Strategic Studies. He also earned a Master of Science in Supply Chain Management from Kansas University, Lawrence, Kansas.
Colonel Horn deployed to Afghanistan in support of Operation Enduring Freedom; Kuwait and Turkey in support of Operation Iraqi Freedom; and to Qatar in support of Operation Inherent Resolve.
His awards and decorations include the Legion of Merit, Defense Meritorious Service Medal (1 OLC), Meritorious Service Medal (1 OLC), Joint Service Commendation Medal, Army Commendation Medal (1 OLC), Joint Service Achievement Medal, Army Achievement Medal (2 OLC), and the German Armed Forces Proficiency Badge (Gold).
Last Updated: 16 August, 2023