Leadership
---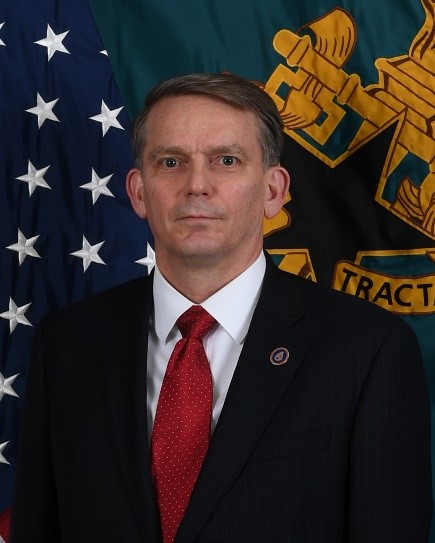 Mr. William Robert "Bob" Stanley Jr.
Civilian Deputy to the President, Army Logistics University
Mr. William Robert "Bob" Stanley Jr. received his commission in the Armor Branch in 1982 and is a 1984 graduate of the University of Missouri-Columbia, earning a Bachelor's Degree in Industrial Engineering. Mr. Stanley is now serving as the Deputy to the President, Army Logistics University.
Mr. Stanley began his civilian career in January 2015 after retiring from the Army. His first assignment was as the Chief, Programs and Analysis for the Combined Arms Support Command (CASCOM) G8. Prior to his current position, Mr. Stanley served as the Deputy to the Chief of Transportation.
His military operational assignments include Mortar Platoon Leader, Tank Platoon Leader, Company Executive Officer, Support Operations Officer, Battalion Executive Officer, Battalion Commander, and numerous staff positions at the Corps, and Combatant Command level. He has served in the 1st Armored Division (Bamberg, Germany), 1st Corps Support Command and XVIII Airborne Corps (Fort Bragg), 19th Support Command (Korea), and numerous other locations in the Continental United States.
His operational deployments included Operations Desert Shield, Desert Storm and Operation Restore Hope.
Mr. Stanley is a graduate of the Officer Basic Course, Officer Advanced Course, Combined Arms Staff Service School, Army Command and General Staff College, Joint Professional Military Education II, and the Naval War College. He holds a Master's Degrees in Energy and Mineral Resources from the University of Texas at Austin and National Security and Strategic Studies from the Naval War College.
Mr. Stanley's military awards and decorations include Defense Superior Service Medal, Legion of Merit, Bronze Star, Defense Meritorious Service Medals, Meritorious Service Medals, Senior Parachute Badge, Air Assault Badge, and Army Staff Badge. He was also the Army's Distinguished Master Logistician in 1998 and the President's Honor Graduate and Halsey Scholar at the Naval War College in 2006. His civilian awards include the Superior Civilian Service Award, quality step increases, and several other performance awards.
Last Updated: 31 Aug, 2020