Leadership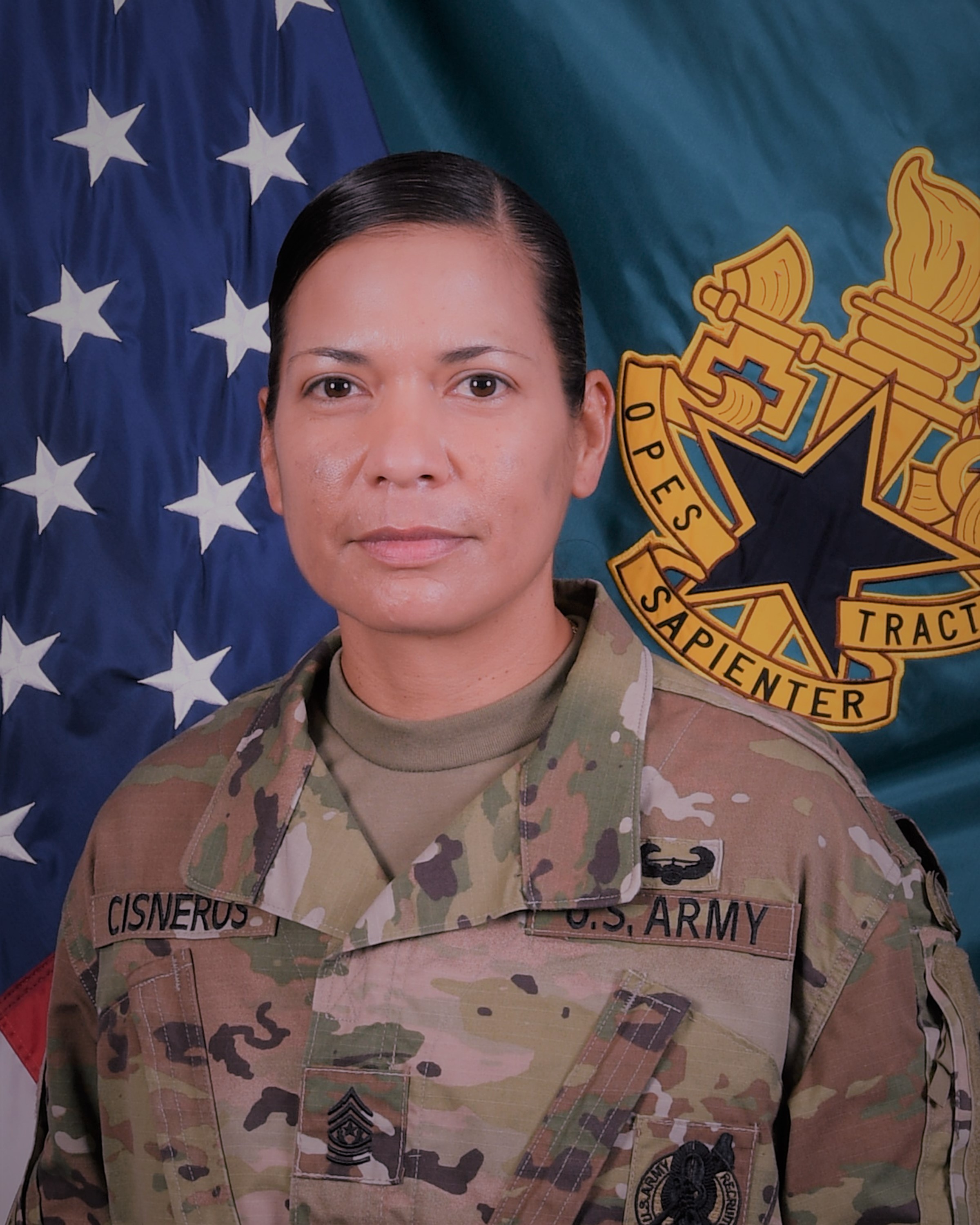 Command Sergeant Major
Marissa M. Cisneros
Senior Enlisted Advisor, Army Logistics University
Command Sergeant Major (CSM) Marissa M. Cisneros is a native of Edinburg, Texas; she entered the United States Army in June 1998. CSM Cisneros attended Basic Combat Training at Fort Leonard Wood, Missouri, and Advanced Individual Training at Redstone Arsenal, Alabama, as an Ammunition Specialist, 89B.
CSM Cisneros' duty assignments include Ammunition Specialist and Squad Leader with 210th Forward Support Battalion, Fort Drum, New York; Ammunition Sergeant, Headquarters and Alpha Battery, 2nd Battalion, 6th Brigade Air Defense Artillery, Fort Bliss, Texas; Recruiter, El Paso Recruiting Company, Phoenix Recruiting Battalion; Ammunition Inspector and Ammunition Logistics Sergeant, Headquarters and Headquarters Company (HHC), 27th Brigade Support Battalion (BSB), 4th Brigade, 1st Cavalry Division, Fort Bliss, Texas; Supply Support Activity Platoon Sergeant, Alpha Company 121st BSB; Operations Sergeant, 121st BSB; First Sergeant, HHC, 123rd BSB; First Sergeant, HHC Brigade, 1st Armored Division, Fort Bliss, Texas; First Sergeant, 52nd Ordnance Company, Camp Humphreys, Korea; Operations Sergeant, 87th Combat Sustainment Support Battalion (CSSB), Fort Stewart, Georgia; CSM, 1st Support Battalion, Sinai, Egypt; CSM, 129th CSSB, Fort Campbell, Kentucky; CSM, 401st Army Field Support Brigade, Camp Arifjan, Kuwait.
She deployed to Bosnia in support of Operation Joint Forge in 1999; Iraq in support of Operation Iraqi Freedom (OIF) 06-08, OIF 09-11, and Operation New Dawn 2011; Sinai, Egypt in support of the Multinational Force and Observers 2017-2018.
CSM Cisneros' military education includes Master Resilience Trainer Course Level 1, Battle Staff Course, Master Fitness Trainer Course, Unit Movement Officer Course, Army Recruiter Course, Equal Opportunity Course, Basic Instructor Training Course, Combative Level 1 Course, Air Assault School, CSM Development Course, Battalion and Brigade CSM Pre-Command Course. She has completed all levels of the NCOPDS and is a graduate of the United States Army Sergeants Major Academy, Class 66. She holds an Associate's Degree in General Studies from Central Texas College, a Bachelor's Degree in Psychology from Ashford University, and a Master's Degree of Science in Management from Excelsior College.
CSM Cisneros' military awards and decorations include the Legion of Merit, Bronze Star Medal (2 OLC), Meritorious Service Medal (4 OLC), Army Commendation Medal (2 OLC), Army Achievement Medal (6 OLC), Good Conduct Medal (7th Award), National Defense Service Medal, Armed Forces Expeditionary Medal, Iraq Campaign Medal (3 Campaign Stars), Global War on Terrorism Service Medal, Korean Defense Service Medal, Military Outstanding Volunteer Service Medal, Noncommissioned Officer Professional Development Ribbon (Numeral 5), Overseas Service Ribbon (Numeral 5), North Atlantic Treaty Organization Medal, Multinational Force and Observers Medal, Meritorious Unit Citation (1 OLC), Air Assault Badge, Recruiter Badge (Silver) and Drivers Badge (Wheeled). She is the recipient of the Ordnance Order of Samuel Sharpe, and an active member of the Sergeant Audie Murphy Club.
Last Updated: 31 Aug, 2020