Leadership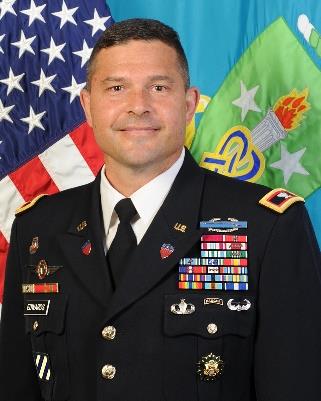 Colonel Jason T. Edwards
Vice Chancellor, Commandant, Adams Campus,
Army Sustainment University
Colonel Jason T. Edwards is a graduate of the Infantry Officer Basic Course, Adjutant General Corps Officer Advanced Course, and the Command and General Staff College. A native of Coldwater, Michigan, Colonel Edwards earned a Bachelor of Science Degree in Political Science/Public Administration and a Master's Degree in Public Administration, both from Central Michigan University. He also completed Senior Service College as a National Security Fellow at the John F. Kennedy School of Government, Harvard University.
Colonel Edwards began his career in the 82nd Airborne Division and served as a Platoon Leader and Executive Officer in Delta Company, 2nd Battalion, 505th Parachute Infantry Regiment, Fort Bragg, North Carolina (known as Fort Liberty since 2023). In 1999, Colonel Edwards deployed to Albania and Kosovo to lead US Forces into the region. Upon the completion of the branch detail, he transitioned to the Adjutant General Corps and served as the Chief, Officer Management, 82nd Airborne Division.
Colonel Edwards was assigned to the United States Army, Pacific as Chief, Officer Management, Fort Shafter, Hawaii, in 2002. He commanded Bravo Detachment, 556th Personnel Service Battalion (PSB), 25th Infantry Division, Schofield Barracks, HI, deploying to Kandahar, Afghanistan from 2004 to 2005. He also served in the 556th PSB as an S-3 Operations Officer and Rear-Detachment Commander from 2005 to 2007.
Colonel Edwards then served as the Deputy Chief, Postal Operations Division, 8th Human Resources Sustainment Center, Camp Arifjan, Kuwait from 2007 to 2008. Upon his return, he was selected as the Secretary of the General Staff, 8th Theater Sustainment Command, Fort Shafter, Hawaii, in 2009.
Colonel Edwards was then assigned as the Chief, J123 Exercises, Plans & Readiness Branch, United States Indo-Pacific Command, Camp Smith, Hawaii, from 2010 to 2013. He deployed to Japan in direct support of Operation TOMODACHI. He was then selected to command the Division Headquarters and Headquarters Battalion (DHHB), 3rd Infantry Division, Fort Stewart, Georgia, again deploying to Afghanistan as part of the Headquarters, United States Forces-Afghanistan/Combined Joint Task Force-3 from 2013 to 2015. He also served as Branch Chief, Enlisted Distribution, Army Human Resources Command, Fort Knox, Kentucky from 2015 to 2017. Colonel Edwards then served as the Commander, United States Army Garrison, Rheinland-Pfalz, with installations throughout Germany, Romania and Bulgaria from 2018 to 2020. He then served as Division Chief, Military Personnel (Enlisted), HQDA, DCS G-1, Military Personnel Management Directorate from 2020 to 2022. Colonel Edwards assumed command of the U.S. Army Soldier Support Institute on Aug. 2, 2022.
Colonel Edwards awards and decorations include the Legion of Merit (OLC), Bronze Star (OLC), Defense Meritorious Service Medal, Meritorious Service Medal (3OLC), Joint Commendation Medal, Army Commendation Medal (3OLC), Joint Service Achievement Medal (OLC), Army Achievement Medal (6OLC), Combat Infantryman's Badge, Expert Infantryman's Badge, Ranger Tab, Senior Parachutist Badge, Air Assault Badge, and the German Parachutist Badge.
Last Updated: 17 August, 2023