Leadership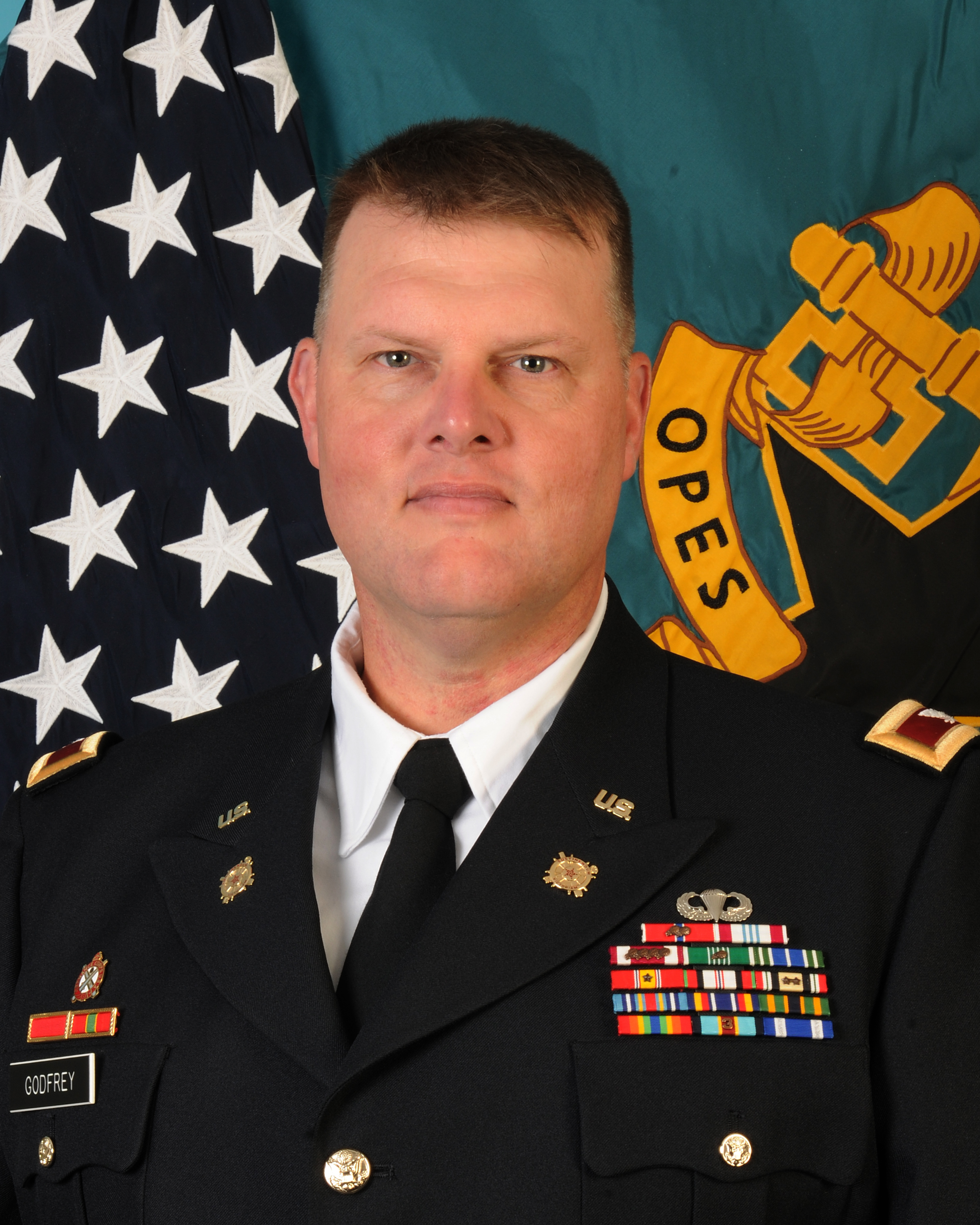 COL James J. Godfrey
Commandant / Military Deputy, Army Logistics University
COL Godfrey was commissioned an Ordnance Officer through ROTC in 1995 from Central Missouri State University, with a Bachelor of Science in Criminal Justice. He also holds a Master's Degree in Procurement and Acquisition from Webster University, St. Louis, MO.
COL Godfrey's military education includes the Ordnance Officer Basic course, Aberdeen Proving Ground MD, the Combined Logistics Captains Career Course, Fort Lee, VA, the Combined Arms and Services Staff School, Fort Leavenworth, KS and the Command and General Staff College, Fort Leavenworth, KS.
COL Godfrey's command and staff assignments include: Assistant S4, 201st MI BDE, Fort Lewis, WA; Platoon Leader, Shop Officer and XO for B/296th FSB, 3/2ID, Fort Lewis, WA; Company Commander 19th Maintenance Company, 5-7ADA Patriot, Hanau, Germany; Plans and Ops Officer, 485th Corps Support Battalion, Hanau, Germany; Detachment Commander (AC/RC) 3-357 RGT, Portland, Oregon; G4 Plans Officer, 24th ID, Fort Riley, KS; BDE S4, 1st CAB, 1st ID Fort Riley KS; BN SPO and BN XO 601st ASB, 1st CAB, 1st ID; Division Chief, DLA Land and Maritime Columbus OH; Battalion Commander, 123rd BSB, 4th ABCT, 1st AD, Fort Bliss, TX; and Division G4, 1st AD, Fort Bliss, TX. Director of the Sustainment Battle Lab, then as the G3/5/7, Combined Arms Support Command, Fort Lee VA.
COL Godfrey's military awards and decorations include: the Bronze Star Medal (2OLC), the Defense Meritorious Service Medal, the Meritorious Service Medal (4OLC), The Army Commendation Medal (1OLC), the Army Achievement Medal, the Iraqi Campaign Medal, the Afghanistan Campaign Medal, the NATO Medal and the parachutist badge. He is a recipient of the Saint Barbara Medal, the Saint Michael Medal, the Ordnance Order of Samuel Sharpe Medal and the Noble Patron of Armor Medal.
Last Updated: 19 November, 2018