Army Sustainment May - June 2012
Focus
In 1963, John F. Kennedy observed, "Change is the law of life. And those who look only to the past or present are certain to miss the future."
On 14 May, one of the Army's oldest branches celebrates 200 years of service to the Nation.
The modularity of a combat sustainment support battalion limits its ability to follow the Army Force Generation cycle, and the demands on the battalion are greater than the capabilities it is authorized through its modified table of organization and equipment.
Transferring cargo from sea to air transportation can be a very challenging part of an overseas deployment. But units can ease the difficulty by concentrating their attention on seven critical areas.
By helping to train Afghan logisticians, an Ordnance Soldier fulfills his desire to have a direct and positive impact on Afghan National Army operations.
The 87th Quartermaster Detachment (Parachute) has served a unique role as the sole Active Army airborne unit in Okinawa, Japan, since 2005.
The U.S. standard voltage of 120 creates problems for Soldiers deployed to countries where the standard voltage is 220. Ignorance and carelessness when working with these voltages can have disastrous results.
Every 4 to 6 weeks, a forward support company (FSC) attached to a reconnaissance or cavalry squadron goes to the National Training Center (NTC) at Fort Irwin, California, to validate its past 12 to 16 months of training in preparation for a deployment.
To meet its Title 10 requirement to support the geographic combatant commands in using rail service as a combat multiplier, the Army Reserve has created the Expeditionary Railway Center.
President Barack Obama submitted his proposed budget for the Army to Congress on 13 February.
Secretary of the Army John McHugh and Army Chief of Staff General Raymond Odierno presented the Army's 2012 Posture Statement to Congress on 17 February 2012.
Greetings from the Home of Ordnance! This year is the Ordnance Bicentennial celebration, and after it has "answered the call for 200 years," I'm proud to bring you a short update on the state of your Ordnance Corps.
Logistics movements in Afghanistan face major challenges. During the year the 17th Combat Sustainment Support Battalion (CSSB) was deployed in Afghanistan conducting convoys and escorting supplies, the issues and requirements facing our forces on a daily basis constantly evolved. From dealing with host-nation trucks (HNTs) to confronting enemy activity, our convoys bravely traversed many routes over the rugged terrain of Afghanistan to bring vital equipment and supplies to our fighting forces.
Fuel delivery operations in Afghanistan are complicated by host-nation trucking system challenges, including pilferage, maintenance problems, and life support issues.
The Army Command and General Staff College (CGSC) Warrior Logistics Scholars Seminar is a graduate-level program designed to expose select field-grade officers to the best practices in military and corporate supply chain management and logistics.
The 416th Transportation Company exchanged a fleet of Caiman mine-resistant ambush-protected (MRAP) vehicles for better protected Caiman Plus MRAPs while continuing operations in the Iraq Joint Operations Area.
Studies conducted by the Army Materiel Systems Analysis Activity are making significant contributions to improving logistics operations.
Providing nutritious meals that are easy to make and that customers enjoy is the goal of a new program underway throughout U.S. Army Europe.
Failure to conduct efficient operational risk management can cause unnecessary accidents. A few simple operational risk management procedures can reduce accidents and increase Soldier safety.
Twenty-two full teams and 320 competitors from all 5 branches of the armed services participated in the 37th Annual Military Culinary Arts Competition from 29 February to 7 March 2012 at Fort Lee, Virginia.
On 31 January 2012, the Department of Defense announced the release of $18 million to fund military programs aimed at reducing energy demands of future expeditionary outposts.
On 16 February 2012, 20 Soldiers graduated from advanced individual training at the Army Ordnance School at Fort Lee, Virginia, to become the Army's first military occupational specialty (MOS) 91S Stryker systems maintainers.
Click here to get ASM updates delivered to your inbox.
May-June 2012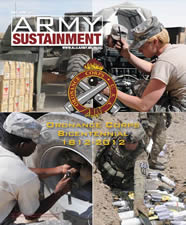 Download Complete PDF
The Ordnance Corps celebrates its bicentennial on 24 May. Building on a proud heritage of 200 years of service to the Nation, the men and women of today's Ordnance Corps provide maintenance, ammunition handling, and explosive ordnance disposal (EOD) support to warfighters around the world. The articles beginning on pages 4 and 6 look at the present and the past of the Ordnance Corps. In the cover photos (clockwise from the upper left), an Ordnance Soldier uses a forklift to move munitions at Joint Base Balad, Iraq; a mechanic reattaches hoses and wires in a generator after an engine is replaced at Camp Liberty, Iraq; an EOD Soldier prepares a controlled detonation of ordnance outside of Forward Operating Base Clark, Afghanistan; and an armament repair specialist reinstalls lugnuts on the wheel of a trailer at Contingency Operating Base Speicher, Iraq. (Photos by SPC Michael Camacho, SGT Phillip Valentine, SPC Tobey White, and SGT David Scott)