Leadership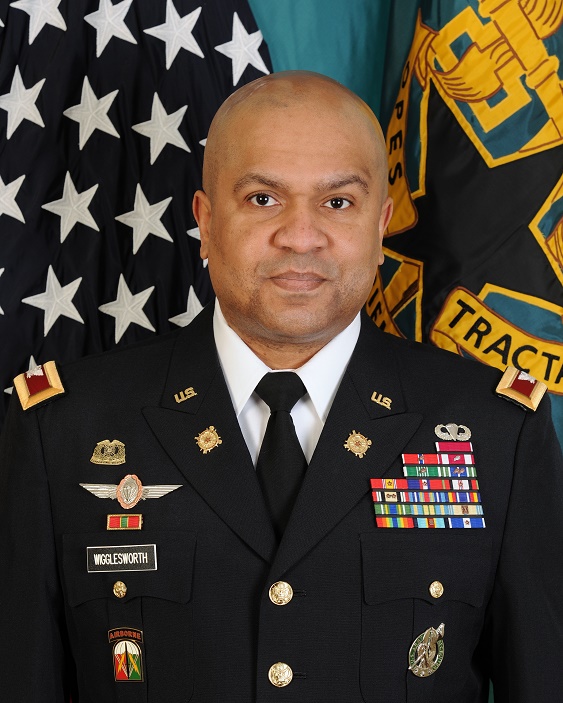 COL Jamal E. Wigglesworth
Commandant / Military Deputy, Army Logistics University
Colonel Jamal E. Wigglesworth is a native of Virginia Beach, Va. He graduated from Virginia State University, Petersburg, Va., in 1991 as a Distinguished Military Graduate with a Bachelor of Fine Arts Degree in Commercial Design and entered active duty as a Second Lieutenant in the Air Defense Artillery. He later earned a Master of Science Degree in Administration and Leadership Management from Central Michigan University.
Colonel Wigglesworth served in a variety of positions to include the 3rd Battalion, 1st Air Defense Artillery, Fort Hood, TX, as a Tactical Control Officer, Hawk Platoon Leader and Technical Supply Platoon Leader; 553rd Corps Support Battalion, Fort Hood, TX as a Battalion Operations Officer; 41st Field Artillery Brigade, Babenhausen, Germany as the Brigade S4; 16th Corps Support Group, Hanau, Germany as a Company Commander; Mid-Atlantic Recruiting Battalion, Lakehurst, NJ as a Recruiting Company Commander and Battalion Executive Officer; 19th Theater Support Command, Daegu, Korea as the Chief of Exercise Division, G3 Operations; 3rd Division Support Brigade, 3rd Infantry Division, Fort Stewart, GA as the Chief of Supply and Services; 87th Corps Support Battalion as the Executive Officer and Support Operations Officer; 3rd Sustainment Brigade, Fort Stewart, GA as the Deputy Support Operations Officer; U. S. Army Command and General Staff College, Fort Leavenworth, KS as an Assistant Professor, Course Author, and Teaching Team Leader; The U.S. Army Special Operations Command as the Commander of the 528th Special Troops Battalion (Special Operations) (Airborne); The U.S. Army John F. Kennedy Special Warfare Center and School as the Director of Special Forces Sustainment Integration; Eighth Army as the Commander of the 2501st Digital Liaison Detachment, Republic of Korea; Combined Arms Support Command at Ft. Lee, Va. as the Director of Materiel Systems and currently with the U.S. Army Logistics University at Ft. Lee, Va. as the Commandant. He has deployed in support of Operation Joint Guardian in Macedonia, multiple tours to Iraq in support of Operation Iraqi Freedom and to Afghanistan in support of Operation Enduring Freedom.
His military education includes Airborne School, Air Defense Artillery Officer Basic Course, Combined Logistics Advanced Course, Combined Arms Services and Staff School, Recruiting Commanders Course, Command and General Staff College, Support Operations Course, U.S. Army Advanced Force Management Course, the Joint Special Operations University, U.S. Army Special Operations pre-command course.
His individual awards and decorations include the Legion of Merit Medal, two Bronze Star Medals, six Meritorious Service Medals, two Army Commendation Medals, three Army Achievement Medals, the Military Outstanding Volunteer Service Medal, the Distinguished Order of Saint Martin Medal, and the Honorable Order of Saint Barbara Medal and the Distinguished Military Logistician designation. Foreign awards include the Samil National Security Merit Medal (the highest honor bestowed upon Colonels by the President of the Republic of Korea).
Last Updated: 18 June, 2018