Leadership
---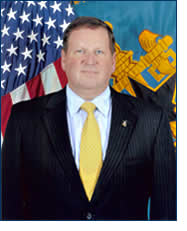 Mr. David J. Rohrer
Civilian Deputy to the President, Army Logistics University
Mr. Dave Rohrer is currently assigned as the Civilian Deputy to the President, U.S. Army Logistics University. In this position he is responsible for the daily administration of support activities at the University to include resource management, manpower, logistics, university procedures, and outreach to civilian academic institutions.
Prior to assuming his current position in November 2011, he was the Strategic Planning Officer in the Strategic Initiatives Group / G-5 at the U.S. Army Combined Arms Support Command (CASCOM) from May 2009 to November 2011. He held positions as a defense contractor as the Director of Operations at DRS Technologies, Richmond, Virginia, from 2008 to 2009 and as a Functional Analyst with General Dynamics Information Technology in support of the CASCOM Sustainment Battle Lab from 2007 to 2008.
Mr. Rohrer retired from the Army in 2007 at the rank of Colonel after a 27-year career as a Quartermaster Officer. In addition to numerous staff positions, he commanded at the company, battalion, and brigade level with his final assignment as the Commander, Defense Energy Support Center – Americas, and Director of Operations, Defense Energy Support Center (DESC), Defense Logistics Agency (DLA).
He is a Distinguished Military Graduate of North Georgia College. Mr. Rohrer also holds a Masters Degree in Human Resource Management Systems from Chapman University and a Masters Degree in National Resource Strategy from the Industrial College of the Armed Forces, National Defense University.
Last Updated: 14 May, 2018